Essential coronavirus resources for children and families
The current coronavirus pandemic is proving to be a stressful and confusing time for children and their families all over the world.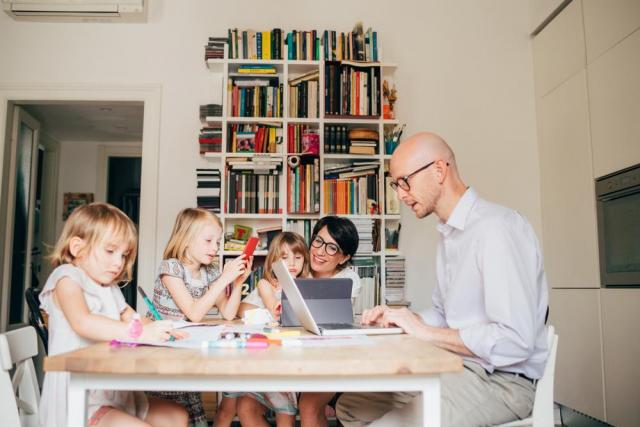 Not only does the spread of COVID-19 pose a threat to the health and wellbeing of those affected, but it is also turning everyday lives upside down - an impact that will be keenly felt by children in particular.
Click here to see our findings on how parents' attitudes have been affected.
With schools closed for the foreseeable future and regular outdoor activities now being declared off-limits to protect public health, youngsters across the UK are suddenly finding themselves stuck indoors for large stretches of time, with very little formal structure to their days.
This can be extremely harmful to their mental wellbeing and personal development - which is why it is so important that parents, nannies, and carers do their bit to keep children entertained, engaged, and properly stimulated for as long as the lockdown lasts.
Fortunately, the negative impact of the coronavirus quarantine on the nation's youngsters has been widely recognised by international child welfare organisations and educational bodies.
Many have produced special coronavirus resources aimed specifically at children and their carers, designed to help them cope effectively during the outbreak and emerge on the other side in the best possible physical and mental health.
Below, we've compiled a list of some of the best resources available online to help you keep the children in your care as happy and healthy as possible during these unprecedented times.
Children's Guide to Coronavirus from the Children's Commissioner
For a one-stop primer for children on the most important aspects of the COVID-19 crisis, the new Children's Guide to Coronavirus from the Children's Commissioner for England is a great starting point.
This visually appealing guide aims to explain the situation to youngsters in a way that's digestible and reassuring, offering guidance on how to stay safe and make the best of their time at home, as well as answering common questions and worries your child might share.
The document also provides some useful links and tips on new hobbies and interests to explore, so it can be a good place to look to get some ideas on what to do for the next few weeks.
Free audiobooks and ebooks from Audible and Apple
With schools closed, a number of major providers of written content are stepping up to fill the gap by making large portions of their digital libraries accessible for free to children and families.
Amazon-owned audiobook giant Audible has made thousands of educational titles and children's audiobooks available to stream for no cost during this period, including classic titles such as Winnie-the-Pooh, Alice in Wonderland, The Jungle Book and Harry Potter and the Philosopher's Stone.
Apple Books is also making a wide selection of audiobooks and ebooks for the whole family available free for a limited time in response to the current crisis.
These can be accessed simply by downloading the Apple Books app on a compatible device, and then finding the Free Books section within the Book Store.
Save the Children's information hub
Save the Children are an international charity, founded in the UK, dedicated to improving and safeguarding the lives of vulnerable youngsters around the world.
In response to the coronavirus crisis, the group has launched a dedicated information and advice hub that is being regularly updated with new content throughout this period.
This includes a virtual den and online play area, which provides creative indoor play and entertainment ideas to explore during the outbreak, such as reading, craft projects, and den building.
It also offers relaxation content, advice on how to teach your children about the virus, and messages of solidarity and reassurance from other youngsters around the world.
Carers can also use the site to keep abreast of the latest COVID-19 developments, ensuring they are able to respond quickly to keep their children safe, no matter how the situation continues to develop.
PE with Joe
You may have already heard of the online fitness coach Joe Wicks, who has been taking the internet by storm since the coronavirus outbreak thanks to the daily PE lessons he has been streaming on his YouTube channel, The Body Coach TV.
Broadcasting new lessons every Monday to Friday at 9am, Joe has proven a big hit with families across the UK with his energetic workout regimens designed specifically for young people who are stuck indoors. His upbeat, positive personality has also been a welcome relief from the stresses the pandemic has created.
Given that many children are struggling to get as much exercise as they require during the lockdown, online fitness resources such as this can make a significant difference to the overall wellbeing of your family at the moment.
Twinkl Home Learning Hub
Online learning portal Twinkl is another service that has stepped up to offer free access during the coronavirus outbreak, providing access to a wide range of educational resources for children who are unable to attend school.
By signing up for Twinkl using the code UKTWINKLHELPS, parents and carers can find a vast array of teacher-created lesson plans, activity sheets and recommended schedules for children of all ages, helping them ensure their children's education is not overly disrupted by the cancellation of regular classes.
The site also provides a parents' hub offering additional guidance on the best ways to maximise the effectiveness of home teaching programmes.
BBC Teach
The BBC also provides a wide range of educational video resources for different age brackets on its BBC Teach website, providing a great way to further enrich your children's educational experience.
Short educational videos are available on a wide range of academic subjects, as well as interactive lessons and special series commissioned on specific topics, ranging from a video overview of World War II to an animated abridged version of A Midsummer Night's Dream.
BBC Teach is regularly updated with new content, so there should be plenty to explore throughout the lockdown period, giving your children the best possible chance of picking their education up again seamlessly when the coronavirus crisis comes to an end.
Virgin Media
Virgin Media have 've put together a list of some of the best educational TV shows to help parents easily find useful educational resources for all ages, including structured lessons and practical advice.
You can find it here.