What Are Nannies and What Do They Do?
The role of a nanny can be an extremely rewarding career choice. The job requires the individual to become a close part of a household, to care for the household and be responsible for the wellbeing of the children within.
There are a number of different roles that a nanny can be asked to fulfill but they typically revolve around providing a caring and safe environment for a child to learn and have fun. Typical tasks can include preparing meals, tidying the home and driving the child to and from events such as appointments and classes.
There are a lot of different types of nanny roles, with subtle differences and similar titles so it can be difficult to make sense of what type of nanny is best suited to your needs. In this article, we will cover the different types of nannies and what each care provider does.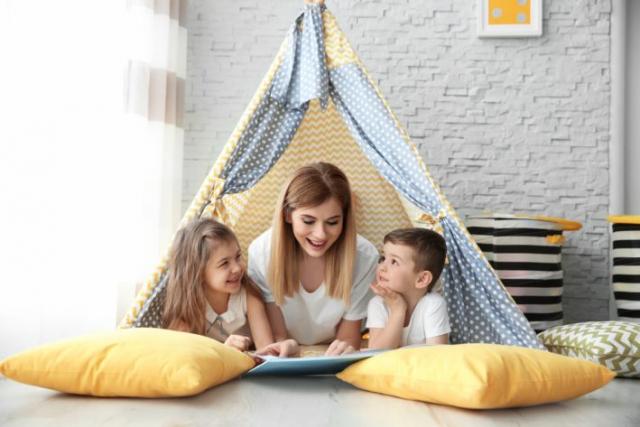 The Different Types of Nannies
There are a number of types of nannies that all provide separate services and it can be confusing if you're not sure of the difference. At Nannies Matter, we provide high-quality household assistance in a number of roles.
Both a live-in and a live-out nanny can provide the same support to your family life. Those responsibilities can include:
Preparing children for school
School drop off and pick up
Laundry for children
Changing children's bed sheets
General tidying
Supervising homework
Preparing meals
Arranging playdates
Organising appointments

The age of your child and the type of support you need will determine the type of nanny service you require. The three main roles for a nanny are:
Ages 0-4
A nanny is best suited to provide childcare for children from birth until they begin school at age 4.
The responsibilities of a nanny are to care for the young child, providing entertainment and helping with their early years education. Additionally, they will complete cleaning tasks related to the child, including laundry, tidying the child's room and changing their bedding.
It's important to note that the cleaning activities carried out by a nanny relate only to the care of the child and keeping the spaces used by the child clean and safe. Although, there are roles that also encompass cleaning the household and completing laundry tasks for the whole family.
Ages 5-12
Once the child starts school, the role of the nanny will likely change to include things such as getting the child ready in the morning and completing the school run. At this point, the role would become that of a nanny housekeeper.
Fundamentally, this role is very similar to that of a nanny with the main purpose being to care for the child. However, as the child gets older and becomes more active the role of a nanny needs to adapt to reflect this. This often means that the role will take the nanny housekeeper out of the home more, driving your child to and from school and other appointments, such as clubs and classes.
Ages 13-18
From adolescence, your child won't require the same level of supervision. They will be more able to entertain themselves and won't want to engage with the nanny in the same way as younger children do.
At this point, the role transfers from that of a nanny housekeeper to a housekeeper, a role that focuses more on the household and the needs of the family as a whole.
The role is flexible, meaning that the provider can focus more on caring for the child or on tending to housekeeping needs, depending on your requirements.
Aside from these three main types of nanny roles, there are a number of more specific care providers that we can facilitate. They are:
Maternity nurses who can help during the daytime
Night nannies who can allow you to get some much-needed rest, so the time spent with your child is rewarding for you both
Holiday nannies who can travel with you during a trip, so that you can fully benefit from the break with your family
Nannies for an overseas placement, whether it is for a fixed period or on an ongoing basis
Live-In or Live-Out Nannies
On top of the three main roles for your nanny, you will need to decide whether you want a live-in or live-our nanny.
A live-in nanny is a full time care provider. Typically, they will work up to 10 hours a day, five days a week but as the name suggests, lives at your home, either in a separate bedroom, annex or a flat within the grounds of the property.
Having a live-in nanny provides an added flexibility that means your nanny is able to provide additional weekend or evening support that other types of caregivers might be unable to offer.
A live-out nanny is very similar to a live-in nanny in terms of responsibilities, however, the nanny doesn't live with you. Because of this a live-out nanny can work either full-time,working 8-10 hours, five days a week or part-time, 5 hours for four days a week. Of course, a nanny's work schedule needs to work around your requirements so make sure that you discuss exactly what you need to make sure your nanny is perfectly suited.

Parents and Guardians
If you're looking for a nanny, make sure to read our tips on how to interview a nanny and our helpful guide on the whole process. Get in touch with us today to discuss your requirements. Call 0800 121 4881 or fill in our online enquiry form and we will get back to you.