How to Interview Your Nanny
You've seen all the suitable applicants and have shortlisted the nannies that you'd like to meet - now it's time to interview them. Finding the right nanny for you and your family is an important decision as you're going to be entrusting them with responsibility for your children and home.
In this article, we will provide advice on how to make sure the interview with your potential nanny is a success.
Below you will find advice on how long each interview should be, how to create a relaxed environment, when to outline your specific child care requirements and a list of questions to ask that will ensure you have all the details to make an informed choice about your future nanny.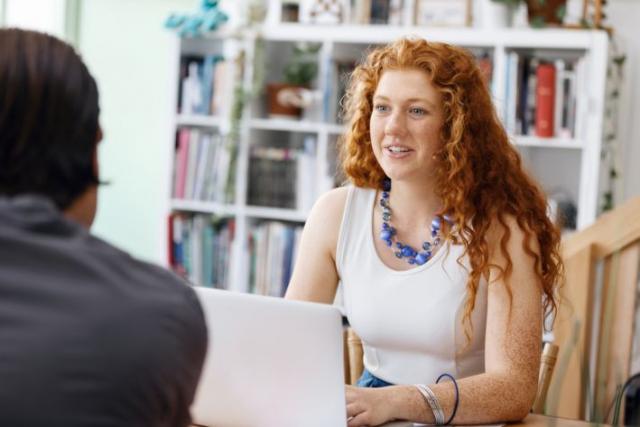 Setting the scene
A job interview can be a nerve-wracking experience for a hopeful nanny, so before the interview gets underway, it's best to try and create a relaxed environment. Both you and the candidate will benefit by creating a low-pressure interview setting, as it will enable you to get a clearer picture of how they act in a typical day-to-day setting, rather than a formal interview.
Start by offering the interviewee a cup of tea or coffee and take the opportunity to introduce them to the children. This will give you a brief picture of how the nanny interacts with your children.
Once you've got the introductions out of the way, find a quiet room and begin the interview.
The interview itself should usually take between 45 minutes and one hour. It can be helpful to create a structure to ensure that all the points you need to cover are discussed. A typical interview structure looks like this:
Tell the nanny about your family and children
This should be a brief overview to follow-up from the introductions that have already taken place. You don't need to go into too much detail about each child's specific schedules and requirements at this point, that will come up later when you outline the requirements of the role.
Ask the nanny to tell you about themselves
You should already have seen the nanny's CV and you will be going through that in the next step, at this point the aim is to learn more about the candidate as a person. At this point, it is a good time to ask what the nanny does outside of work, if they have hobbies, or if they have any additional skills or hidden talents. A nanny will become such an integral part of your home that it's important that they are a good match both in capability and personality.
Go through the nanny's CV
With the candidate's CV in front of you, ask the nanny to explain the document to you. Doing this will mean that you will get more information on their experiences than you would by reading through the CV yourself. Remember to ask for clarification or more detail as you go through.
Prepare and ask questions about specific job roles that you can see on the CV - you need to show a potential nanny that you are interested in their previous jobs and show that you're looking for a nanny to work with your family for as long as the relationship is mutually beneficial. Remember that the best nannies are in high demand, so it is your opportunity to show the benefits of working with your family.
Ask questions about the nanny's abilities
Depending on how thoroughly you go through the nanny's CV, you may have already got the answers you need. However, this section will give you more of an opportunity to learn about how the nanny will use their abilities to approach the role. Consider creating a mock scenario or 'day in the life' and asking what the nanny would do in this case to understand how the nanny may deal with a normal day or a challenge.
Allow time for the nanny to ask you any questions
Interviewing a nanny is a two-way process to ensure that you and the candidate are both compatible matches. You should give the candidate plenty of opportunities to ask you questions too. Giving the candidate an opportunity to ask questions will help both you and the nanny to ensure there is no miscommunication about any part of the job role. Additionally, allowing the nanny to ask you questions will add to the relaxed atmosphere discussed already.
Outlining the role of a nanny
During the interview, it is important that you outline your expectations - some of these will be covered by all of our nannies as standard; however, there may be some responsibilities that you're expecting them to fulfil that isn't in their job description. As a general rule of thumb, you should explain:
What their working hours will be
What their duties and responsibilities will be, relating to both the children and the home
Routines that the children are used to, for example, swimming lessons, playgroups, etc.
At this stage, you should outline any routines or house rules that the nanny will need to be aware of. This can include any specific dietary requirements, any medical issues relating to your children or more general house rules that you would like your nanny to uphold, for example, limiting the use of mobile phones. Read up on what nannies are and what they do, here.
Questions to consider asking a potential nanny
Once you have outlined the role of the nanny, you should move on to asking questions directly related to the job on offer - these might include:
How long have you worked as a nanny and what work experience do you have?
As with any job interview, it's important to know about a potential nanny's experience of child care. Any previous work experience should be listed on the CV but talking through their work history will give them an opportunity to discuss in more detail any specific experience that they think is important to highlight.
It will also give the nanny an opportunity to discuss any other experiences that they believe makes them a good candidate.
What made you decide to pursue a career as a nanny?
While asking about the candidates work experience will give you a good insight into their experiences as a nanny, asking questions about why they decided to pursue a career as a nanny will provide you with a lot of information on the individuals character and what is important to them
Similarly, you can ask what they think are the qualities that make a good nanny?
What do you most/least enjoy about being a nanny?
Asking about the work that a candidate most or least enjoys is a good way to get insight into the duties that they might struggle with.
Other questions to consider can include:
Tell me about your best childcare job to date and what made it enjoyable.
When you're considering a job offer, what qualities are important in a family?
What are your views on discipline and how do you deal with bad behaviour?
How would you plan a typical non-school day?
What are your favourite activities with children?
You should also ask candidates to explain any gaps, short periods of employment and career changes noted in their CV.
Closing the interview
Once you and the candidate are both satisfied with the interview and that you have covered everything, you should bring the interview to a close. At this time, you should let the nanny know what the next steps are and when they are likely to hear if they have been successful.
If you want to offer the candidate the job, it is worth making this clear as soon as possible, as they will undoubtedly be attending other interviews and you may lose the opportunity to hire them. If you are unsure and want to see other nannies, you should say that you will be contacting Nannies Matter after the interview process and the agency will let them know the outcome.
However you decide to proceed, you should contact us to discuss the next steps and provide any feedback on how the interview went. If you want to see more nannies, we can arrange that for you too.
Checking the basic requirements
During the interview, it's also important to ensure that the candidate has all of the necessary paperwork and certificates to work with children and put your mind at ease. The information to ask for includes:
A valid DBS check
Paediatric First Aid Certificate (valid for 3 years)
Driving Licence (if required)
Ofsted registration, if you're planning to use childcare vouchers or tax free childcare scheme
You don't need to worry about the paperwork when hiring a nanny through Nannies Matter as we handle all of the admin and ensure that all of the nannies put forward to you are highly skilled and ready to work.
Get in touch
If you're looking for a nanny to help with the care of your children, please don't hesitate to get in touch with us today by calling 0800 121 4881 or fill in our contact form and we will get back to you.